Lawn and Garden
Welcome to growing plants in Riley County. I love to make site visits when time allows. Make an appointment for me to stop-by.
We are blessed with many different growing conditions for you to express your gardening style. There are deep soils along our water ways and shallow rocky soils on our hills. Average rainfall is 4 inches different between North and South Riley County.
You are invited to bring in samples to the office of plants, insects, soil and diseases along with your questions for the Agent to assist you with.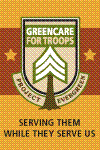 Project EverGreen is a nationwide outreach program connecting local lawn and landscape firms with men and women serving our country in the armed forces away from home.
Riley County Conditions
Select the location you desire for information and the time span.
Access previous rainfall, soil temperature, and wind conditions for Manhattan
Average Last Spring Frost = April 18, May 9 is 95% frost free date
Average First Fall Frost= October 15
179 Growing Days
Average Rainfall in Manhattan = 34.8 inches
Average Rainfall for Riley County= 32.4 inches
Soil pH range 3.8 – 10, average is 7.2, most common 7.7, 6.5 is preferred
Cold Hardiness Zone
6a = -10° to - 5° F.
Heat Zone 7
= 60 - 90 days (average number of days per year above 85° F.)