Walk Kansas March 18 - May 12, 2018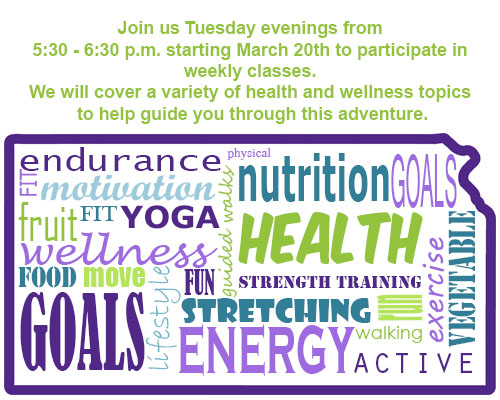 Let's get moving and celebrate healthy living!
Co-workers, family members, friends and neighbors form teams of 4-6 people who will track minutes of physical activity and food choices during the 8-week challenge.
Each team identifies a goal, or challenge, it wants to reach. Three challenges are offered. Challenge 1 is the 8 Wonders of Kansas (435 miles), and would require each member to reach the minimum guidelines for physical activity, 2 1/2 hours per week. To reach Challenge 2, the team must go Cross Country (764 miles), or 4 hours per week for each participant. Challenge 3 the Little Balkans to Nicodemus (1200 miles), requiring each person to get 6 hours per week.
Walking isn't the only activity that counts - biking, swimming, running, weight-lifting, yoga, cross-training, or any moderate to vigorous activity you do for at least 10 consecutive minutes.
Participants record daily fruit and vegetable consumption.
Team members report progress to their team captain each week. Team captain reports totals to local program each week.
Register at http://www.walkkansas.org/